Adobe Photoshop CS2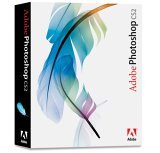 Adobe Bridge (formerly File Browser)
Adobe Bridge software is the new-generation File Browser--Photoshop's navigational control center that allows you to browse, organize, label, and preview graphics and Photoshop files quickly and efficiently. Adobe Bridge takes File Browser, introduced in Photoshop 7.0, a step further by providing centralized access to your suite project files, applications, and settings. With Adobe Bridge, you can process multiple camera raw images at once; resize, rate and label thumbnails; review images in slide show mode; and more. With file organization and sharing, plus Adobe Stock Photos at your fingertips all the time, you simply search for the files you want to place using metadata--such as key words, colors or image resolution--and seamlessly drag and drop your files into Photoshop. You can even page through an entire Adobe PDF file right in the preview panel of Adobe Bridge. And with Adobe Bridge, you can also browse, search and purchase royalty-free images from leading stock photo agencies without ever leaving InDesign CS2. It's as simple as that.
Revolutionary Vanishing Point and Image Warp
Photographers will be especially amazed at the effects that Vanishing Point can bring to a project. Clone, paint, and paste elements that automatically match the perspective of the surrounding image area in a fraction of the time that it currently takes. With Image Warp, you can easily create packaging mock-ups or other dimensional effects by wrapping an image around any shape. Place your client's logo around a coffee cup, or stretch, curl or bend an image across the hood of a car or around the Space Shuttle, for that matter. The effects you can create with Image Warp will be limited only by your imagination.
Digital Camera Raw File Support
Accelerate your raw file workflow with simultaneous processing of multiple images while you continue working. With Photoshop CS2, you can import images into your choice of formats, including Digital Negative (DNG); enjoy automatic adjustments to exposure, shadows, and brightness and contrast; and much more. This exciting new enhancement provides fast and easy access within Photoshop software to the "raw" image formats produced by many leading professional and midrange digital cameras. The Photoshop Camera Raw plug-in--now available as part of Photoshop CS2--has been updated to support more cameras and include more features.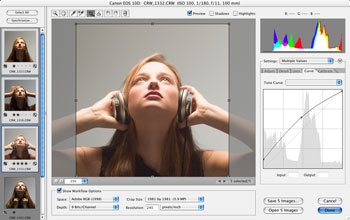 Spot Healing Brush and One-Click Red-Eye Correction
Never have touch ups been so easy. With the Spot Healing Brush, you can effortlessly retouch photos--including 16-bit images--in a single click. Red-eye Correction lets you instantly neutralize red eyes and also lets you set pupil size and darkening level.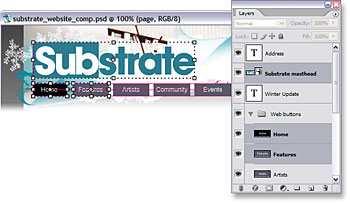 Other New Features
Photoshop CS2 offers a huge array of exciting new features designed to help artists and creative professionals in all fields stretch their imagination and increase their work and creative efficiencies:
Smart Objects: Perform nondestructive scaling, rotating, and warping of raster and vector graphics with Smart Objects. Even preserve the editability of high-resolution vector data from Adobe Illustrator software.
Multiple Layer Control: Select and move, group, transform, and warp objects more intuitively by clicking and dragging directly on the canvas. Easily align objects with Smart Guides.
Nondestructive Image Correction: Improve the color, contrast, and dynamic range of any image using a comprehensive set of professional correction tools and nondestructive adjustment layers, which display corrections while preserving the original.
Full 16-bit and New 32-bit Image Support: Work with absolute precision thanks to support for 16-bit images in all channels and layers. Create and edit 32-bit images, and take advantage of High Dynamic Range, 32-bit support.
Advanced Noise Reduction: Reduce noise and remove JPEG artifacts for cleaner images.
Customizable Workspaces and Menus: Get easier access to the tools you need with task-based presets, highlight new or commonly used menu items, and even set up and save custom menus and workspaces.
Web Animations: Quickly create dynamic GIF animations directly within Photoshop CS2 by taking advantage of the new Animations palette and layer palette animation options.

Product Description
Adobe Photoshop CS2 software, the professional image-editing standard and leader of the Photoshop digital imaging line, delivers more of what you crave. Groundbreaking technology helps you create and enhance images with extraordinary results. Unprecedented adaptability lets you custom-fit Photoshop to the way you work. And with exceptionally smooth editing, processing, and file handling, there's no slowing you down. Bring your images to life with Photoshop CS2.
Product Description
Upgrade only; Previous installation required Multiple layer control for selecting, moving, grouping and transforming objects intuitievly Advanced noise reduction for high-ISO shooting plus JPEG artifact reduction 32-Bit High Dynamic Range (HDR) support Customizable workspaces and menus for easier access to task-based presets and custom menus Spot Healing Brush retouches in a single click One-click red-eye correction lets you set pupil size and darkening level