Ad-Aware SE Personal Edition 1.06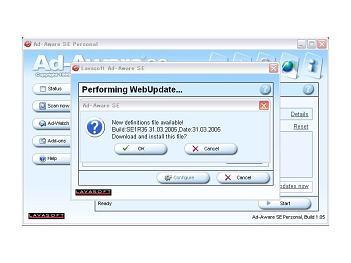 Detection, Prevention and Protection of Spyware
While the Internet is a powerful resource with a great variety of useful content, it is also rife with malicious software, broadly known as spyware. This software, which often comes disguised as the very same useful content, is unknown to most users, and it can track your surfing habits, profile your shopping preferences, and abuse your Internet connection by sending this data to a third party, all without your knowledge or permission.
Ad-Aware SE Professional Edition offers you the highest level of protection from malicious software which includes browser hijackers, keyloggers, and tracking cookies. Taking advantage of Lavasoft's Code Sequence Identification (CSI) technology, Ad-Aware is able to protect you from both known and unknown variants of these threats; and with real-time protections of Ad-Watch you can block suspicious processes from affecting your system. All this combines to make Ad-Aware a state-of-the-art anti-spyware program for the desktop environment.

The Ad-Aware SE Professional Edition allows you to
Scan fixed and removable drives, memory and Windows registry
Protect against aggressive adware, browser hijackers, data miners, dialers, DLL injection, keyloggers, selected Trojans, tracking cookies and many more types of malicious content
Block registry modifications and malware installation attempts in real time
Detect not only known but also unknown variants of malware by using the Code Sequence Identification (CSI) technology
Terminate running processes via the Process-Watch viewer
Automatically update reference file
Take advantage of a fully featured quarantine support
Customize operation including setting up schedules for scan and reference file updates
Log information about scans and malicious content removals

The Ad-Aware SE Professional Edition
Protects your privacy on the Internet by stopping behaviour-tracking spyware
Enhances your computer's performance by protecting against bandwidth stealing programs
Provides greater computer security by blocking keyloggers and other programs which put passwords, credit card numbers and other vulnerable data at risk online
Allows you to stay abreast of spyware, not just a step behind, thanks to the Code Sequence Identification (CSI) technology
Blocks aggressive advertising by blocking pop-ups